Your Source for Turbulators
Turbulator Production
Turbulators, or Mixer Strips, are mechanically twisted strips of stainless steel used in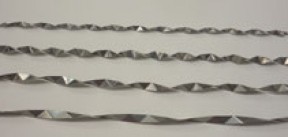 secondary heat exchangers for high efficiency forced air heating systems. Since 1992 Phinney Tool & Die has been the preferred supplier of Turbulators to the leading manufacturers of HVAC equipment and is currently producing Turbulators of various twists and lengths for heat exchangers with 1/2″ and 3/8″ diameter tubing.
Phinney's tooling engineers will be pleased to work with your HVAC engineers to design and build Turbulators to suit your particular specifications. From prototypes to millions of parts,
Phinney has the engineering knowledge and the production capacity to exceed your expectations.